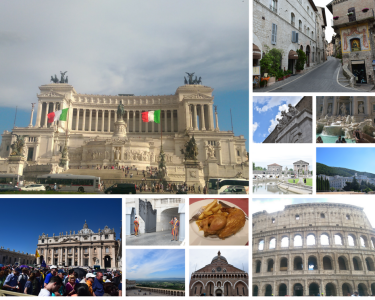 Every summer has a story…
Ibn Battuta, who is known as the greatest traveler of pre-modern times once said, "Travelling – it leaves you speechless, then turns you into a storyteller".
Experience Europe with Alisa as she ticks off travel on her bucket wish list.
Jotting down memories of my first trip abroad has never been so exciting. Travel has always topped my endless set of bucket-list wishes. Here was my chance to tick off my biggest dream as we set out from Goa to Doha, and landed in Rome, the eternal city and joined others just like us to form a group of 50. Thus began my adventure of a lifetime (hopefully not!).
To begin with, we visited various historic churches and basilicas which Rome is famous for, the Piazza Venezia, Trajan's Column, St. Paul's Basilica, St. John Lateran, The Scala Sancta, the famed Trevi Fountain, Manneken Pis and one of the city's ancient sights – the Colosseum.
There's history everywhere – around you, above you, below you. You feel like history is coming alive in front of you.
The next day we embarked on a tour of Vatican City – the smallest independent state in the world, the Vatican Museum which houses the iconic architectural marvels and the Sistine Chapel with its wonderful paintings by Michelangelo. The Pontifical Swiss Guard (exclusively responsible for the safety of the Pope), in their colourful uniforms was a fascinating sight. We even witnessed a Vatican wedding, which does not happen very often.
The Papal audience was an experience which I personally would have liked more of. We did not get a chance to be up close with Pope Francis but instead had to manage from a distance. I could only get a close-up view through my camera lens!!
A visit to the quiet city of Lanciana proved to be quite a sobering experience, after the crowds of Rome. Our next stop was Padre Pio's Shrine, atop a hill in San Giovanni Rotondo. The entire place with its splendid mosaic is awe-inspiring beyond words.
We roamed around Assisi, the birthplace of St. Francis, an entire city on a hill. As a student of Presentation Convent High School, Margao, which is run by the Fransciscan Hospitaller nuns, it was a special feeling to visit the Basilica of Saint Clare, whom we fondly called Mother Maria Clara through our school years.
We also visited the Basilica of Saint Anthony of Padua, which contains some of his relics and toured around the city.
No trip to a country is complete without tasting its delectable/rich cuisine. The Italian cuisine is one that we Indians are obsessed with. With countless dishes at our disposal, I made sure I had ample space in my tummy to feast on this wide range of mouth-watering dishes – the famous pizza Margherita, pasta, risotto, lasagna, ravioli and Iaccoca bread. To end the meal the Italian way, we savoured the famed desserts like Sfogliatelle, tiramisu, the traditional Gelato, pannacotta, Pastiera Napoletana, and the Cornetto.
The next day we were off to Zurich.  So stay tuned for the next installment of my wonderful journey through Europe…. Read about my Alpine travel adventure here.