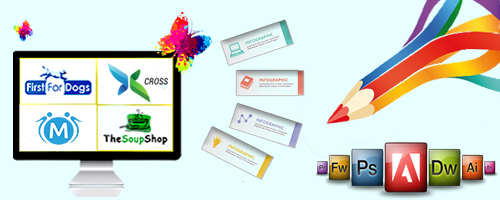 Logo Design
Your logo becomes the symbol of your company – it embodies the core values of your organization, your brand and your identity. Hence, your logo should be simple and unique yet compelling, compatible and reproducible across a spectrum of sizes, formats and backgrounds.
We operate by the axiom that the first impression is the lasting impression. Our logo designs ensure that it draws attention of potential customers to your company. We see that the logo is professional and creative, so that you achieve your own individuality amidst an ocean of other logos. Creating a logo for a client calls for a thorough understanding of their organization. Our logos help you build the trust factor between the company and the user.
We design logos that have a long life expectancy and the ability to evolve over time yet remain recognizable! Contact us for more information.
Icon Design
When it comes to branding your software or mobile application, creating a unique icon is crucial as it is the first graphic users see while visiting your website/software-store/app-store. Having a visually appealing and snazzy icon will give your website/software/app a unique identity of its own and boost its brand value.
We ornament your website/software/app with eye-catching icon designs that are customisable across a range of platforms. Our icon designs are created across a continuum of color palettes, styles and themes so that it gives your website/software/app the exclusivity that it needs.
We design icons according to your specifications. To avail our services in this area, drop us a message.
Banner Design
A banner design gets the word out; about your products/services across. With judicious use of powerful graphics and text, it is a way of giving maximum exposure to any website.
We design banners for the needs of your sales campaign and target market. We ensure that our banner designs draw traffic to your company and maximize ROI of your sales campaign. From static to dynamic websites, we create visually appealing banners that speak a lot about your products/services without being flashy or too verbose.
Contact us for our eye-catchy banner design services and turn the limelight on your products/services!
Our Process
Understand the ethos, processes and target audience of the company
Mind mapping of ideas and sketching them before implementation
Use latest digital technologies to design the logo/icon/banner
Review the design with the client and invite feedbacks
Execute the final revisions and deliver the design
| | | | | |
| --- | --- | --- | --- | --- |
| Visually Stunning | Aesthetic | Reproducible | Brand-Empowering | Cost-effective |