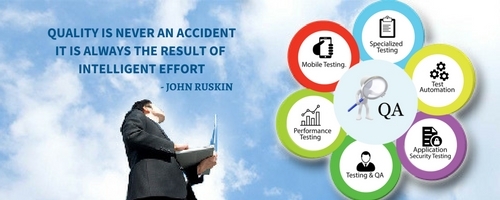 An issue-free solution is the holy grail by which Software Testing/Quality Assurance abides. None of the solutions offered under our umbrella of offerings goes out without being rigorously tested for any errors or malfunctions.
Testing requires special tools, methodologies, experience in development and that one defining factor: An eye for detail. We see to it, that your software functions properly and according to your requirements. That expectations match with the delivered outcome.
We also see to it, that your software is compliant with the current security and usability best-practices. During our testing process, we maintain an open communication with you, our client. We employ regression testing methods to make sure that the bug is thoroughly eliminated and doesn't recur in a changed environment. This is to make sure that any new changes implemented after the testing process didn't come with a fresh set of bugs.
Since security is of prime importance especially for an e-commerce website, our testing services ensure that the website/app is shielded from all malicious threats and data hacking. We also carry out testing from a user's point of view to ensure optimum customer ease-of-use and user satisfaction and decreased bounce rates on system malfunctions.
We also check whether your software for approximate and "above average" visitor and data loads – to ensure it doesn't lose its cool in peak load conditions. Our testing services also ensure that the software is responsive across various devices and screen sizes. We test our products in all setups to provide a fully-rounded product.
Use our Software Testing/Quality Assurance services to mitigate risk and make your product fail-safe. Drop us a message below!
Our Process
Identify the scope of the testing, implement the test strategy and determine the test resources
Rigorously test the solution to identify any bugs and issues
Report the issues to the concerned team and initiate corrective actions
Monitor the document progress
Re-execute test to assure the absence of any undetected or fresh bugs
| | | | | |
| --- | --- | --- | --- | --- |
| Eye for detail | Wholesome end product | Meticulous documentation | Timely Reporting | Bug-free solutions |