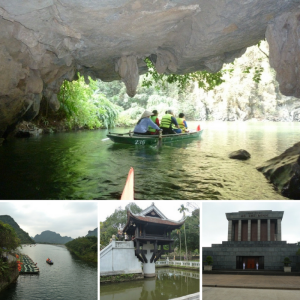 My Travel Trip to Vietnam
Vietnam is gaining a firm position in the bucket list of many travelers worldwide. In spite of the troubled times and wars, Vietnam with its marvelous destinations overcomes the hard past, becoming an attractive tourist destination in South East Asia. Some of the best destinations include Halong Bay, Ho Chi Minh City (Saigon), Hanoi, Sapa Town, Nha Trang Beach City, Quang Binh Province, Mekong Delta, and so forth. The magnificent sites, unique activities and untouched scenic beauty caused us to pack our bags and say "Xin Chào Vietnam".  We began our week long adventure getting to know Hanoi, the capital of Vietnam and then proceeded to spend a view days at the Halong Bay- Bay of descending dragons.Here's a list of locations that were part of our adventure.
Hanoi
A city filled with history which can be seen in its colonial era buildings and with an abundance of greenery with numerous parks and lakes. The city's most interesting places for tourists are all relatively close to each other, which makes it a delightful city to walk around in. Historic places to visit include the Temple of Literature and the Ho Chi Minh Complex. The bustling streets of the Old Quarter are every shoppers delight. Hanoi is a great place to start with if you're looking to fall in love with local cuisine. My personal favourite was a noodle soup with meat and vegetables known as Pho. Sipping the Vietnamese iced coffee around the Hoan Kiem Lake area simply takes you to coffee heaven.
Trang An
Trang An known as the Halong bay of the land is a scenic landscape of caves, mountains and rivers. Row boat rides, piloted by Vietnamese women, navigate through the waterways. The scenery is breath taking and can be seen in the King Kong: Skull Island movie.
Bai Dinh Pagoda
Buddhism is a widely practiced religion in Vietnam. The Bai Dinh Pagoda is a religious complex housing the biggest pagoda in Vietnam and the longest pagoda lobby. It consists of old and new sections, the old sections depicting a story of the past. It is indeed an architectural spectacle.
Halong Bay
Named as one of the most beautiful bays in the world, this UNESCO world heritage site housing unusual rock formations, limestone caves, and fishing villages is a visual treat to every nature lover. It's must to try out one of the cruises, sailing through the peaceful and calm waters of the bay. The cruises stop over at some of the beautifully lit caves adding a mysterious element to the area.