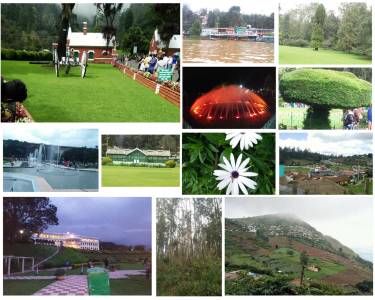 Ooty, the place which makes you say wooo hooo!
Ooty is a great escape for those wanting to take a break from the flaming Indian sun. Ooty, also known as Udhaamandalam, is a hill station in the state of Tamil Nadu, in Southern India. It is a place which can be visited throughout the year. Each season of Ooty has something different to offer to its visitors, giving them immense pleasure.
During the recent Ganesh holidays, my family and I went to Ooty. The journey started from Mysore which is 160kms away from Ooty. We had to go through the Bandipur Reserve Forest on the  Karnataka state border with Tamil Nadu. It was a 'No Stopping' and 'No Honking' zone but people were still stopping and honking! On the way, we got to see many animals such as deers, elephants, peacocks, wild monkeys and many more. This reminds me of quite an amusing incident we had with a wild monkey. We were busy admiring the beauty of the forest, when suddenly one monkey entered in our bus and tried to run away with a yellow jacket hanging on the back side of a seat, he must have thought that it might be a bunch of bananas!
After a 3 hour journey, we reached our destination. Ooty, the Queen of hill stations and one of the most popular tourist destinations. We were welcomed with the cool and pleasant weather, tall nilgiri trees and scenic beauty, which I have not forgotten even till now. It was like a dream world to me. The view of the dove-white mountains with the soft touch of clouds makes the place more likeable and breathtaking.
To begin with, we visited the central Ooty Lake, the picturesque and major tourist spot. One can experience the pleasures of pedal/motor boat rides and horse rides. The beauty of Ooty is also best appreciated when you enter the Government Botanical Garden, created in the 19th century, with beautiful feature ferns, orchids and prehistoric trees. You can enjoy the real beauty when you get to see more than 2,000 varieties of flowers in the Rose Garden which is located on the slopes of nearby Eil Hil. Last, but not the least, are the coffee plantations, for which Ooty is popular.
This one-day trip to Ooty will be the most memorable trip of my life.