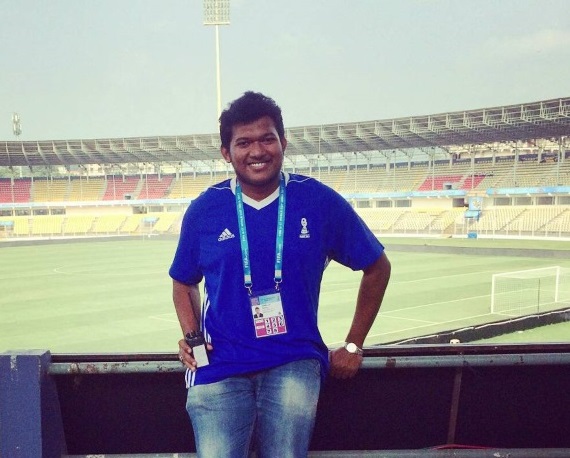 My experience as a Stadium Announcer for FIFA U17 World cup India 2017
There is always a first time for everything they say, and this time it was India's turn to host the FIFA U17 World Cup in 2017. It was not just the country hosting the World Cup for the first time but also the Indian U17 football team playing in FIFA for the first time.
The preparations for such a world-class event starts well in advance, years of planning and development put together to make it a success.
When the AFC (Asian Football Confederation) qualifiers were held in Goa, India in 2016, I volunteered as the Stadium Announcer. Soon after the success of AFC, BRICS football tournament ticked off as well.
For a year, I set my sights on the upcoming FIFA World Cup in 2017. With the past experience under my belt, I was comfortable with the task at hand, but this time it's a FIFA World Cup, one of the biggest football events in the world!
Not everything was as I expected it to be, but when do things go according to plan? The experience from AFC really helped, but FIFA was the big stage, a global event, and as an announcer, the responsibility on my shoulders was huge.
Practice makes perfect.
For FIFA, there is no compromise. With several rehearsals, briefings, training sessions, and meetings the coordination between the various departments gets better and better. With practice comes confidence, with confidence comes the ability to give our best.
With just five match days here in Goa, there was a total of nine matches to be played here. The rehearsals and training were about to be put to the test.
The World Cup kicked off in New Delhi on 6th October 2017. The first match in Goa between Germany and Costa Rica kicked off on time on 7th October 2017. All following matches completed successfully.
With the experience of being an announcer for FIFA, comes the sheer thrill of watching a world-class football match unfold right before your eyes. As I announced, there is no room for error, every word I speak will echo in the stadium and also be heard around the world, and just the thought of it caused chills down the spine. Staying focused at all times is of utmost importance.
Being the Stadium Announcer for FIFA was one of the best experiences of my life.
It was an opportunity no one would want to miss. It wasn't easy, and that is what makes it interesting, life's next adventure.
With the FIFA U17 World Cup India 2017 coming to a glorious end, the credit for its success goes to each and every person who contributed their time and energy for it driven by their passion and enthusiasm.
After successfully announcing for three football events in a year, I now look forward to my next opportunity to take up another challenging task once again in the future.