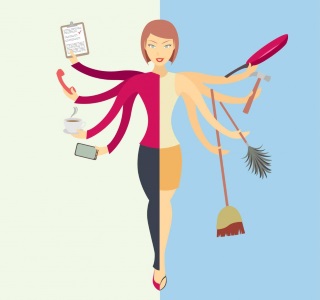 Juggling between home and office life
It's never easy being a mom, trying to juggle a full-time job along with a family life. Indeed, my family has helped me a lot, and still continues supporting me. I am really grateful to have such a wonderful and understanding husband, who has always been supporting me.
To honestly tell you all, at first, I was really scared to start again with my professional life (after marriage) – with family responsibilities, two kids to take care of and husband working overseas – it didn't really seem like a realistic idea.
I left my job when I conceived for the first time. I was happy being a mommy but, I wouldn't deny that I missed work. A year later, an opportunity knocked my door and I was selected to work from home. I was happy, handling both, and would have continued it had I not fallen sick over and over again. Handling the baby and work had started to take a toll on my health – that was really a bad phase of my life. I had to leave the job as I was not able to give adequate time and attention to it.
I delivered my second baby during that time. I was happy handling my home, until one day when I realised that I have been missing something very dear to me. Yes, I had started missing my work. My kids kept me busy for the entire day. It was during the night time that I thought about my work. The thought of missing my workplace and job would not even let me fall asleep. This continued for long time. I kept my thoughts and feelings to myself. I knew I wanted to do something. These thoughts kept piling on and then, one day, I let out my heart to my husband. He understood my situation and suggested me to join my previous workplace – OPSPL. I was once again, placed in a difficult situation. I had a talk with my mother and like always, she supported me.
I didn't know how I would be able to manage work, kids and family at the same time. My mother advised me – and I can say, boosted me – to take up the job. She lent her hand and said she would look after my kids. Things seemed clearer now, I was at least satisfied that if at all I take up a job, I am leaving my kids in safe hands. That's the first step I took towards beginning my career again (happy feeling ☺), Yes, I decided to continue my career.
The next fear lurking in my mind was whether my employer would want to have me back. But the directors at OPSPL have been wonderful as always – I spoke to my directors. They welcomed me with their open hearts. And from then onwards, the juggle started yet again.
I await weekends – To spend time with my family and kids. We spend every weekend together, have outings and have a lot of fun. But then weekend ends and Mondays arrives and the work cycle begins again (as all working people will surely agree with me on this).
I always hope and pray that I will be able to manage both – work and home – in the right way, without neglecting any.
– Sabina Colaco.