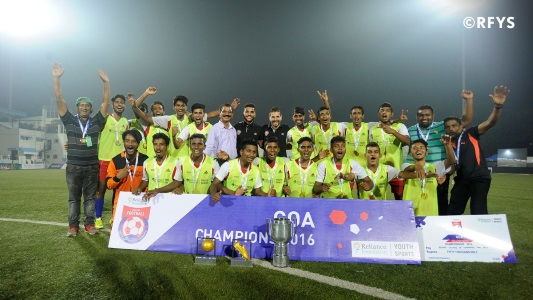 The joys of playing football in my life
Sports is very necessary in life, no matter what age you are or what work you do, as it keeps you healthy, young and happy. Being a football player has helped me a lot, not only on field and at work, but in life too. Better understanding, reacting to situations, coordinating and working with others to achieve a common goal are some of the main lessons I have learnt.
As a kid I was very sporty, participating in all sports. During rains, it was football, winters- cricket and summers- volleyball, cycling and many other sports. Most Goans have one thing in common- that's a great love for football. I too was more on the field than at home. As time passed by, I started concentrating more on studies than on sports. Football, however, remained a compulsory ritual every evening.
During my final year in college, I got an opportunity to represent my college team as a goalkeeper. It was a completely new experience for me since it was a totally professional league. After a lot of hard work and practice sessions, we won the title of "All Goa Champions 2016" in the Goa (Boys) College Championship. Truly, a dream come true moment for me. Oh, and by the way, that's me in the orange jersey celebrating the victory with my team.
With this victory, we qualified for the next level, the National championship in Mumbai where eight teams participated, each representing their own state. There we lost in the semi-finals against Kolkata. Even though it was a bad day, the overall experience was good. Memories and experiences are eternal!
"It's supposed to be hard. If it wasn't hard, everyone would do it. The hard is what makes it great." – Tom Hanks, A League of Their Own
– Alton Travasso