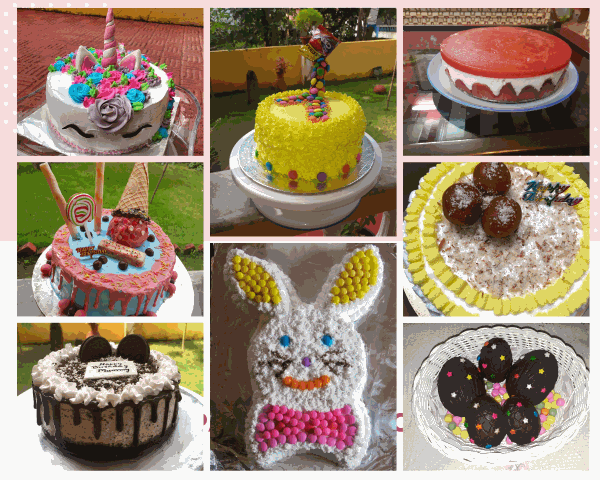 Journey To Flavoursome Desserts
My love for cooking and baking started during my school days. Yes! I started baking cakes when I was in 8th Std. More than cooking main and side dishes, I enjoy making desserts and love indulging them too. Everyone loves desserts. No occasion is complete without desserts on the menu.
During my school days, the first cake I baked was a Carrot & Dates cake and no-bake Marie Biscuit cake. A challenge was baking Bebinca our Goan delicacy, without using the oven, i.e., using the traditional charcoal method. It was a good experience and a delicious accomplishment as a teenager.
From there on, there was no looking back. I started experimenting with new cakes, chocolate, ice creams, puddings, and many other flavorsome desserts. I enjoy trying out new recipes or adding my own innovative ideas to existing recipes. Making desserts makes me feel happy, stress-free and forget all my worries.
I have not limited myself to baking cakes only. I also try all varieties of other desserts. Cheesecake is one of my favourite. I feel it is easy and hassle-free, unlike baking cakes. The different types of cheesecakes I have managed to plate up are Classic cheesecake, Strawberry cheesecake, Mango cheesecake, Oreo cheesecake, Gulab Jamun cheesecake, Snickers cheesecake, and Kitkat cheesecake. Many more are on the to-do-list, on highest priority are Irish coffee cheesecake and Tiramisu cheesecake.
I was introduced to Serradura by one of my colleagues at work. I had tasted Serradura for the first time that day. It is a combination of whipped cream, condensed milk, and Marie biscuits. A layered dessert, that is very easy to prepare and is delicious too. Easy to make because it doesn't require cooking or baking. So one day I decided to try out my own recipe, Serradura with a twist. I used Fruits and Chocolate as extra ingredients to the normal Serradura recipe. It turned out to be a great success. Everyone at home loved the combination and I received satisfactory feedback.
Now let's talk about chocolates. Who doesn't like chocolates? From young to old, everyone loves chocolates. My aunt from Mumbai used to make chocolates and get some for us every time she visited us. My cousins and I were all fond of her chocolates. So during one of her visits, we asked her to teach us how to make chocolates. She got all the material and ingredients required and taught us step by step how to make different types of chocolates: almonds rock, cashew nut, Marie biscuit, dark chocolate, white chocolate and many more. Now every year for Christmas I too make different types of chocolates.
Other different desserts I have prepared are ice creams of different flavours like mango, blueberry, chocolate and strawberry. I've also made puddings like baked version of bread pudding with peanut butter and chocolate, caramel pudding, tender coconut pudding, caramel pudding with chocolate cake.
During Christmas time, I make different Christmas desserts like Christmas Pinwheel Cookies, Christmas cake, Bebinca of 2 types – Original and other one is Christmas theme coloured, chocolates and another Goan delicacy Batk.
I am looking forward to trying out many more dishes. I hope to improve my cooking & baking skills, learn new techniques and keep my self updated. The collage consist of some of the dishes I have made.