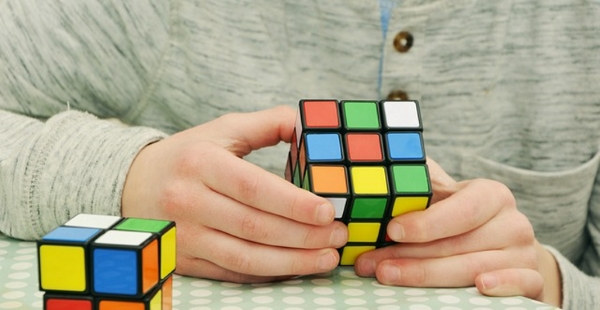 How solving the Rubik's cube can enhance your thinking
Solving a Rubik's cube started out as a curiosity for me and ended up as a hobby. Most people also engage in this hobby out of curiosity and all of a sudden they're hooked onto it. However, learning to solve the Rubik's cube takes a lot of patience and will. You will have to invest a lot of time to learn to solve it, but it will be rewarding in the end.
Whether you are into speed cubing or you are a puzzle lover you will definitely reap the many benefits of solving the cube. Most importantly, it depends on what approach you choose to solving it. Listed below are a few ways that you might benefit from solving the Rubik's cube:
IMPROVE YOUR MEMORY
It depends whether you are solving the Rubik's cube with algorithms or without any guides for help. Either way you will be practising a lot, which in-turn will help in improving your memory – especially your muscle memory.
It is very useful if you want your muscle memory to be top-notch if you are a race car driver or you are a typist for example.
If you are a coder or programmer, then there's no doubt you have come across the Rubik's cube at least once in your life.
CUBE SOLVING IMPROVES YOUR PATIENCE
When you decide to take the Rubik's cube in your hands for the first time, it will definitely test your perseverance. Even the easy algorithms for beginners is not that simple, but those who are persistent and patient will eventually be able to solve it.
Once you start practising the more difficult algorithms, you will definitely require a whole lot more patience.
IMPROVING YOUR PROBLEM-SOLVING SKILLS
Of course, if you just learn an algorithm and solve a Rubik's cube, you won't benefit a whole lot in terms of improving your problem-solving skills. But if you, as many cubers do, start to interpret and figure out your own ways to solve the cube, then it will help you become more creative with the way you decide to handle day to day tasks.
MAPPING OUT YOUR STEPS
Learning algorithms to solving the Rubik's cube means remembering a lot of moves step by step and it has to be done in a particular sequence. There cannot be any mistakes done while applying the algorithm which in turn will end up not getting you the solution. This will help your mind to memorize and train it to map out all your steps in advance to solve a problem.
KEEP YOUR MIND ACTIVE
It doesn't matter if you are a speed cuber or just a casual puzzle solver, it will definitely keep your mind active. Cubing will keep your brain active which in turn will keep the cognitive functions of your mind in shape. Solving a Rubik's cube helps keep the mind sharp.
IMPROVES YOUR SPEED
If you're a speed cuber, it will help increase your reflexes. If you decide to try speed solving, you are basically trying to solve the Rubik's cube as fast as you possibly can. You will reach a certain point where you will be doing 3 to 4 moves per second which in turn will sharpen your reflexes. This can be very useful in life.
IMPROVE YOUR FINGERS DEXTERITY AND AGILITY
It will help your fingers attain agility and dexterity. Being agile can definitely benefit you like being able to type faster or code quicker on your computer. Most importantly handling a Rubik's cube will keep your fingers in shape. It may even help improve a condition called "joint degeneration" in people of old age when fingers lose their dexterity.
IT IS AN AWESOME WAY TO START A CONVERSATION
Most people get dazzled when you show them the process of solving the Rubik's cube. I love showing my puzzles to my friends, which in turn happens to pique their interest and curiosity…. and then they too are hooked on to it!
CONCLUSION
By solving the Rubik's cube more often, I do find that my reflexes are getting quicker when it comes to using my hands and also helps me to read and spot things quicker. This is because speed solving requires you to see colours move very fast and perform many moves based on those colours.
There are a lot more benefits to solving the Rubik's cube-like keeping you entertained and keeping your mind busy. In my case, it is one of the best hobbies I have integrated in my life mainly because it relaxes my brain and for the love for puzzle solving.