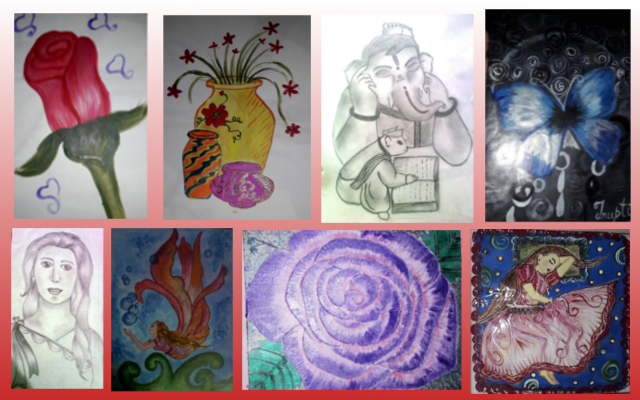 Her Life is Her Art
Now, you must be wondering who is she? Ok, 'Her' refers to me. Everyone has some or the other affinity towards something. I am passionate about painting and art. Playing with colors always satisfies me. Trupti my name itself means satisfaction and I get that satisfaction from painting.
During my childhood, I used to color all the pictures in my drawing books before the teacher could tell me.  Usually, I would be punished for that. Day by day the affinity started turning into a passion.
Painting is just not fun but it has many benefits, some of which I have listed below.
Helps me to relax. Painting is a long process, so it needs patience to complete an activity. However, it is the process that is relaxing.
Provides a sense of control. My sense of control increases when I try to design something complicated.
Helps reduce depression and anxiety. Painting is an anti-depression therapy wherein I indulge myself completely and I forget my anxiousness.
Assists in socialization. It is the process of relaxation, patience and control, so ultimately you learn how to deal with people socially.
Encourages playfulness and a sense of humor. Color is the best thing to improve your sense of humor and I am quite playful. Doing paintings and trying new things acts as a plug-in for enhancing the playful nature.
Improves cognition. Sketching and painting help me to improvise my perception of things. Painting on regular basis helps me to get new ideas and implement them in my other tasks.
Fosters a stronger sense of identity and increases self-esteem.
Nurtures spirituality. Painting has a power to purify and calm the soul.
Reduces boredom. I indulge myself in painting when I have spare time or when I am bored. I had difficulty in painting realistic images till Std X, even though I was good at sketching. I still consider myself a beginner as I have to improve my skills in painting real objects.
I use acrylic colors for my paintings. I have a good collection of brushes and my friends have gifted me a set of brushes that has increased my collection.
Along with my painting skills, I also love singing and dancing and used to take part in competitions when I was in college. I also love being creative and making items out of waste materials. Listening to music is also a part of my daily routine, it helps in reducing stress and gives a sense of peace.
I have not started a painting business but I like to paint whenever I find some spare time. Painting is just the way to find, explore and understand ourselves.