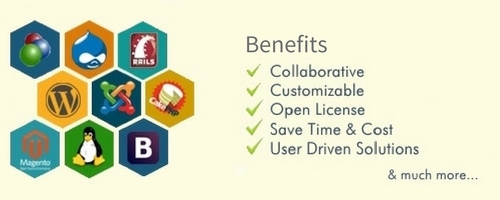 A lot of business desire to go online for reasons like customer outreach, augmenting sales and company branding. Open source applications allows one to start a business online within a short span of time and cost effectively too. With a huge pool of open source code available, it offers a blank slate to developers to build a customized website according to the customer requirements – on existing code and solutions.
At OPSPL, our resources such as web developers and graphic designers work on designing templates, skins, layouts, plugins and work with different modules to give you an inclusive solution that has enhanced portability.
We use Content Management Systems like WordPress, Joomla, Drupal, Magento, ZenCart to give you customized solutions with a faster spin-up time for implementation yet satisfying all your business requirements.
We ensure your website will never be a carbon copy of some other – we work hard to give your website an identity of its own.
Drop us a line below if you are interested in our flexible Open Source Customization Services!
OUR PROCESS


Analyse your business requirements


Choose the optimal open source code for our client's website among a pool of offerings online


Identify areas that need customisation and implement them


Rigorously test the site for any bugs and launch the software without any defects



Provide technical and maintenance support after implementation

We develop customised open source websites which are:
| | | | | |
| --- | --- | --- | --- | --- |
| | | | | |
| | | | | |
| Customised to your Needs | User-Friendly | Responsive/ Portable | Secured | Cost-effective |
If you are interested in our open source customisation services, drop us a message: