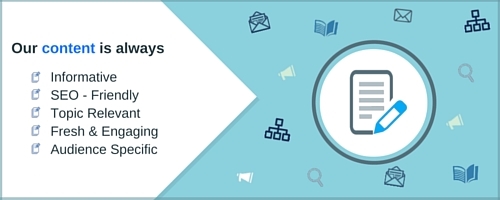 Our SEO services live by the adage that "Content is king." Content is the leitmotif in the optimisation of your website for upping its "search engine" ranking. It is content that either makes or breaks your site. Even the best marketing and business strategies fall flat due to poorly written or badly structured content. Poor content leads to poor results, bad first-impressions and decreased visibility.
Content creation is not the mere filling up of pages with words. It is about creating content that attracts, informs and glues users to your website. This acts as a catalyst, turning your visitors into potential customers.
Our content creation process involves understanding thoroughly three kinds of dynamics: user dynamics, market dynamics and search engine dynamics.
We create judiciously crafted, informative content that includes website content, brochures, manuals, catalogues, mails, sales letters, blog posts, newsletters, marketing content, info-graphics and press releases. We also integrate SEO and SMM areas with content creation to drive maximum traffic to your website. Our content creation service is part of a brand building approach rather than just fashioning keyword rich copy for your pages. We send the message of your website clearly across to your users / customers and fortify your brand equity.
Creating content that becomes the voice of your website! Avail our content creation services!
OUR PROCESS


Understand the client's requirements and understand the market dynamics


Undertake keyword analysis of the site and understand the target audience


Brainstorm – draft, curate and finalise ideas



Research for the topic, define content format and structure and produce the copy



Review the copy, refine and deliver the final information product

Our content creation services are:
| | | | | |
| --- | --- | --- | --- | --- |
| | | | | |
| | | | | |
| Brand Fortifying | Engaging | Structured | SEO Friendly | Delivered Timely |
If you are interested in our content creation services, drop us a message: