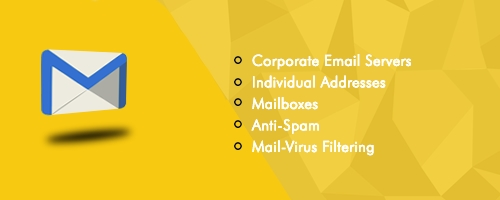 E-mail is a powerful internet tool to maintain a company's customer base by addressing customer issues, sending contact and informational messages, business updates and strategising on the basis of the generated clientele responses.  It maintains the company-user communication cycle.
At OPSPL, our email services make sure that the burden of handling large volumes of email, handling your corporate email servers and individual addresses and mailboxes, anti-spam and mail-virus filtering services … is not an added burden on your shoulders. We cater to a host of clients from small and medium scale business to large corporate houses.
Want to avail of our personalized Corporate Domain-based email services? Drop us a line!
OUR PROCESS


Understand the requirements of our clients


Organise the credentials, databases and contact list of our client's emails



Handle inbound e-mails



Maintain all data in a structured format



Safeguard emails from spam mails, data hacking and viruses

Our e-mail services ensure:
| | | | | |
| --- | --- | --- | --- | --- |
| | | | | |
| | | | | |
| Reduction in administrative load | Efficiency | Reliability | Organised Database | Cost-effective |
If you are interested in our e-mail services, drop us a message: