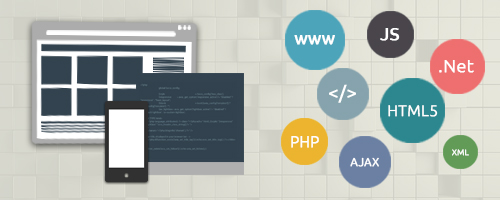 A website is part of the bedrock of your organization, from which potential clients get an idea of what they are being offered and how. Our able team of creative developers collaborate with you to understand your brand, goals and the requirements of your company before engineering the website.
During the developmental process, we utilize the best web development practices, high-quality code, intuitive website design to security and customer support to create aesthetically pleasing, functional, maintainable and user-friendly websites.
We use the latest frameworks in PHP and/or Dot Net and follow the latest conventions and best practices. We also use technologies like Ajax, CSS, Flash, HTML5 and handle all genres of website development like e-commerce, small business websites, large business websites, brand websites, mobile websites and portals.
Our end deliverables are the result of rigorous user testing, client consultation and optimization. We test the solution to ensure that it is compatible across various devices and platforms. Moreover, our "free post-implementation support" – offered on the launch of every web site, is a sign that we truly care about delivering you the best solution.
We have been developing efficient websites for decades that are not only visually appealing, but also easy to navigate and user friendly. Drop us a line below!
OUR PROCESS


Germinate the website development process by brainstorming for ideas and aligning with the client's requirements and goals


Organise a structured blueprint – the content will go on the site and the technology to be used


Design and develop the website and regularly update the client with its progress as well as accept any suggestions


Rigorously testing the site for any bugs



Uploading it successfully and ensuring post-implementation support
We develop websites which are:
| | | | | |
| --- | --- | --- | --- | --- |
| | | | | |
| | | | | |
| Visually Stunning | Fully functional | Suited to your Needs | Up-to-date | Cost-effective |
If you are interested in our website development services, drop us a message: